Vero Beach Kaleidoscope Consignments for home furnishings and gifts
Tuesday, February 20, 2018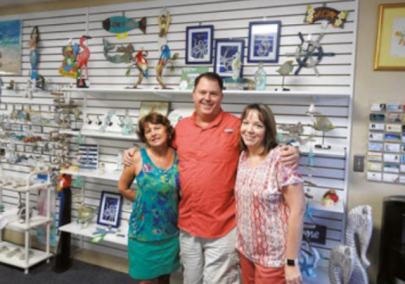 Originally published in Hometown News, Vero Beach - Friday, February 16,2018
By Mike Winikoff
VERO BEACH -- If you are looking to furnish a home, to sell furnishings or an entire estate, or to buy gifts unique to Vero Beach, be sure to visit Kaleidoscope Consignments. The Hometown News 2017 Readers' Choice winner features 7,500 square feet of ever-changing items.
"We're going on our 11th year," owner Tim Lowell told Hometown News. Tim and his wife Sharon Lowell bought the store in January of last year. Mr. Lowell has deep roots in the community, having lived in Vero Beach for 41 years.
When you walk into Kaleidoscope Consignments, the most noticeable feature is the cleanliness. There are none of the mystery smells one often finds in stores that feature consignment items. The store is bright, uncluttered, and easy to navigate.
The second thing that strikes you is that there are interesting items ot look at in every direction. This store has no dead zones that you'll walk by quickly. It is hard to go 10 feet without finding something you want to examine further and possibly buy, for yourself or as a gift, including some really unique ornaments and metal art.
"Almost everyone who comes here says this is one of their favorite stores," said Mr. Lowell. "We have a lot of regulars who come in once a week, just to see what's changed."
"The items change daily," Manager Karen Patterson added. "Between consignments and new merchandise, we try to keep moving things around. We have people who come here on vacation each year, and we're their first stop. Whatever they need for their vacation home they can usually find here at reasonable prices."
"We get a lot of renters who need to furnish a rental home," added Mr. Lowell. "We have all the items one would need to furnish a rental or second home," including outdoor furniture.
The prices almost seem too reasonable. Looking at price tags on intriguing items, this reporter was surprised. Each was priced lower than expected.
"We keep our price point a bit lower than others," Mr. Lowell said. "We like to keep items at a reasonable price that people can afford, and this leads to a constant rotation of merchandise." This reporter saw like-new sofa/love seat combinations for 75 percent off from original price.