Best way to care for hardwood furniture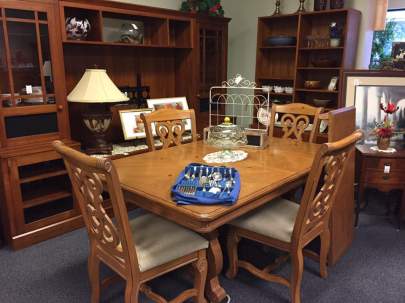 Tim's tips on caring for you hardwood furniture.
Hardwood furniture is known for adding beauty and sophistication to the home. However, if you don't properly take care of your hardwood furniture, its condition could deteriorate over time. The following are a number of tips that will help you take better care of your wood furniture:
Position your wood furniture carefully - Exposure to too much heat and light can cause your wood furniture to lose its luster and can even result in physical damage. Too much heat will cause it to lose its moisture, which will dry out the wood and make it more prone to cracking. To prevent this from happening, position wood furniture away from heating vents, radiators, and fireplaces. Fine wood pieces should also be kept away from windows to prevent overexposure to sunlight.
Prevent contact with wet or hot objects - Use coasters and tablecloths to prevent liquids from spilling onto your wood tables, which can damage the finish. If you need to place hot dishes on the dinner table, make sure you use trivets to prevent damage to the table's surface.
Dust wood furniture regularly - Frequent dusting is a good idea as it will help remove dirt before it settles into the wood. Use a wool duster or a cloth that's slightly damp to wipe down wood furniture. Don't use a dry cloth as this can scratch up the wood. Feather dusters may also damage delicate finishes.
Clean carefully - For heavier cleaning, use a solution of oil soap and water. Apply it to a natural sponge and wring it out before you begin using it. This is a good way to remove greasy soil or film from the wood.
Polishing and waxing - Polishing or waxing your wood furniture will help it retain its beautiful luster. While either one will typically work, don't switch from one to the other. Choose which one you're going to use and stick to it. Combining wax and polish is a bad idea. When choosing, consider that wax is a little tougher to apply, but adds a longer lasting coat.
If you are looking to invest in some high-quality wood furniture, then you'll find an ever-changing inventory of some of the nicest wood furniture in Vero Beach here at Kaleidoscope Consignments. We are also willing to sell high-quality wood furniture on consignment. For more information, be sure to contact us at Kaleidoscope Consignments or visit our store in Vero Beach today.